Student Profile: Joe Turner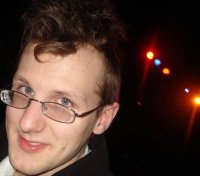 cowallpaper.wordpress.com
My first degree was in Physics. I don't see myself as coming from a specific discipline area though – my interest is in music and computers and the things in-between them.
I chose this Masters programme as it means I can spend a lot more time making things and less time daydreaming about making things. The most exciting thing so far has been meeting the other students and planning outlandish collaborations.
A project that I am working on at the moment that I am really motivated about is writing a gestural sequencer which translates drawings into sound.
In the future, I would like to continue my work in Creative Technologies by becoming an indie rock-star… Or maybe more academic stuff, a PhD perhaps?
For further information or to be kept informed about the IOCT Masters, please contact:
Dr Sophy Smith
Institute of Creative Technologies
De Montfort University, The Gateway, Leicester, LE1 9BH
Tel: (+44) 0116 255 1551, ext. 6864
Email: SSmith05 [at] dmu.ac.uk