<![if !vml]>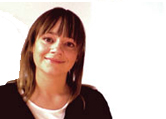 <![endif]>
Dr Sophy Smith
Telephone: 44+(0)116 250 6752
Email: ssmith05@dmu.ac.uk
Dr. Sophy Smith is a Lecturer and Researcher in Creative Technologies, joining DMU in 2005 after 10 years working as a composer and creative faciliatator. Sophy also completed her doctoral thesis at DMU, in the Department of Music, Technology and Innovation, developing a new methodology for the analysis of hip-hip team turntablism, in both process and product.
Sophy is Programme Leader for the innovative Masters in Creative Technologies (MA/MSc), run in Partnership with the Faculties of Technology, Art, Design and Humanities and Health and Life Sciences. This programme develops students' knowledge and skills in working creatively with new technologies across disciplines. and by developing new modes of collaboration and cooperation, IOCT graduates are well placed to face the challenges presented by the current climate.
Sophy's research focuses on inter/multi/transdisciplinary collaboration, primarily, but not restricted to professional arts practice and online social media. Sophy also works extensively as a composer and performer on professional collaborative arts projects. Sophy has worked as composer Motionhouse Dance Theatre She has had a number of articles and chapters published in international journals including Organised Sound, International Journal of Arts in Society. Sophy's first monograph Hip-Hop Turntablism, Creativity and Collaboration is to be published with Ashgate (2012). The monograph develops an analytical methodology for hip-hop team turntable composition, relating to both the process of creation and the completed musical work.
Research Interests
Social media and creative collaboration
Turnablism
Hip-Hop
Collaborative approaches to arts practice
Performance Arts
Composition
Creative Curricula
Trans/multi/interdisciplinary teaching and learning
Research Supervision
Sophy is currently supervising PhDs on music technology education, the longditudinal study of songwriting and turntablism. hybrid approaches to turntablist performance
She welcomes applications from prospective research students in a range of areas across the research interests listed above.