Thursday 17th May 2007, 6.00pm - 7.30pm (doors open at 5.30pm for drinks)
UK launch of the Electronic Literature Collection Volume 1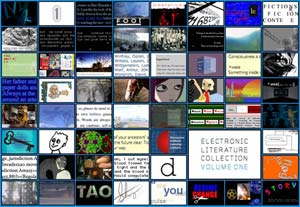 This event is free of charge and open to the public.
The first 50 audience members will receive a complimentary copy of the ELC Volume 1.

The Electronic Literature Collection Volume 1 is an eclectic anthology of sixty works in a variety of styles and formats, from hypertext to Flash poetry, that represents a broad spectrum of electronic literature published between 1994 to 2007. It was published by The Electronic Literature Organization and edited by N. Katherine Hayles, Nick Montfort, Scott Rettberg and Stephanie Strickland.

Guests at this Salon will include: