Thursday 23rd November 2006, 6.00pm - 7.30pm
Kate Pullinger [ www.katepullinger.com ] at the Institute of Creative Technologies (IOCT) Salon [ www.ioctsalon.com ], De Montfort University, Leicester, UK on 23rd November 2006. Supported by the Arts Council England.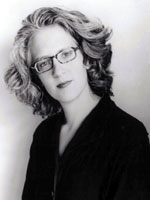 Kate Pullinger, www.katepullinger.com
Kate Pullinger is the first author to have been asked to speak at both the Edinburgh Book Festival and the city's games festival EIEF. Her most recent project is the award-winning series of multimedia short stories, Inanimate Alice. At this Salon Kate will present the English premiere of Inanimate Alice, Episode 3: Russia, as well as discussing her other work. She is a Reader in Creative Writing and New Media at De Montfort University.
In 2002/3 Kate was a Research Fellow at the trAce Online Writing Centre where she spent a year looking at new forms of online narrative. Since then she has continued to experiment and develop digital fiction projects, including The Breathing Wall, a full-length narrative that uses a pioneering piece of software to allow the story to respond to the reader's rate of breathing.
Her print books include the novels 'Weird Sister' and 'The Last Time I Saw Jane' as well as the novel of the film 'The Piano'. Her latest book, 'A Little Stranger', received excellent reviews on its publication in January of this year. Her first play for radio, 'The Egyptian Collection' was critically acclaimed, following the recent national broadcast. She currently teaches on the Masters degree in Creative Writing and New Media at De Montfort University, Leicester.

Links: