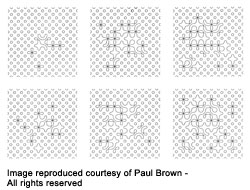 This illustrated presentation will give an overview of the history of the digital arts from their origins in the analogue kinetics and Jazz/Poetry performances of the 1950's to current practice. Key themes like Artificial Intelligence, Artificial Life/Emergence, Computational and Generative, Interaction, Convergence, Communication and Networking will be identified and discussed. In particular the speaker will revisit predictions he made in the late 1980's when he suggested that any new media need a minimum 40 year gestation period which he suggests is now coming to term. He will illustrate this hypothesis by using current web2 manifestations as examples of digital media emerging in their own right in contrast to our previous metaphorical adaptations.





About Paul Brown: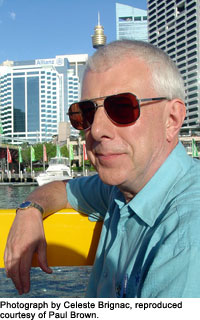 Paul Brown is an Anglo-Australian artist and writer who has specialised in art, science & technology since the late 1960s and in computational & generative art since the mid 1970s. His international exhibition record spans four decades and includes the creation of both permanent and temporary public artworks. He has participated in shows at major venues like the TATE, Victoria & Albert and ICA in the UK; the Adelaide Festival; ARCO in Spain and the Venice Biennale. His work is represented in public, corporate and private collections in Australia, Asia, Europe, Russia and the USA.
From 1997-99 he was Chair of the Management Board of the Australian Network for Art Technology and he is a member of the Editorial Advisory Boards for LEA, the e-journal of the International Society for the Arts, Sciences and Technology (MIT Press), and the journal Digital Creativity (Routledge). From 1992 to 1999 he edited fineArt forum, one of the Internet's longest established art 'zines and he is currently Chair of the international Computer Arts Society (CAS) and moderator of the DASH (Digital ArtS Histories) and CAS e-lists.
During 2000/2001 he was a New Media Arts Fellow of the Australia Council when he spent 2000 as artist-in-residence at the Centre for Computational Neuroscience and Robotics (CCNR) at the University of Sussex in Brighton, England. From 2002-05 he was a visiting fellow in the School of History of Art, Film and Visual Media at Birkbeck College, University of London, where he worked on the CACHe (Computer Arts, Contexts, Histories, etc...) project and he is currently (2005-08) visiting professor and artist-in-residence at the CCNR, University of Sussex where he is working on a project to evolve robots that can draw.
He lives on the Sunshine Coast in SE Queensland, Australia.

Examples of his artwork and publications are available on his website at http://www.paul-brown.com.