Mapping Creative Processes
CREEM: Creativity East Midlands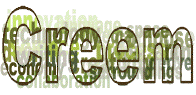 CREEM (Creativity East Midlands) is a network of researchers and practitioners based in the IOCT but extending out into the wider community.
CREEM network participants come from a wide range of disciplines but share a common interest in creativity and innovation.
We are investigating the terms used to describe creativity and innovation with the aim of developing a common language that works across different disciplines. And we are looking at how creativity can enhance innovative practice.
Our activities include a series of weekly informal discussion sessions to exlore topics within the areas of creativity, innovation, and transdisciplinary working, September-November 2007. More details are available via the Creativity Conversations link opposite. We are also staging a number of workshops designed to promote discussion into various aspects of creativity. These will start with a workshop on the subject of 'What is creativity', an exploration of the definitions and language associated with this term. More information can be found on the IOCT events page.
In December 2007 we shall be running a one day conference that examines what creativity is; how computing technologies might help us to be more creative; how we can collaborate with others to amplify our creativity and how to promote innovative thinking and convert creative ideas into practical outcomes.
CREEM is funded by the Arts and Humanities Research Council, the Arts Council England, Department of Trade and Industry and the Economic and Social Science Research Council through the Nature of Creativity scheme. The project runs from October 2006 to December 2007.
For further information about this project, please contact:
Prof Stephen Brown, IOCT, De Montfort University, The Gateway, Leicester, LE1 9BH.
Tel: (+44) 0116 257 7173
Email: sbrown [at] dmu.ac.uk