Performance
Transparent Screen Choreography
Presence, resonance, and viscerality through the live and mediated body - Kerry Francksen.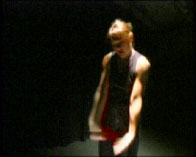 This project aims to investigate how the live and mediated body might coalesce in an environment, which deals with interactivity and projection. The main aim of the project is to engage in process and will consider how new technologies might challenge normative means of viewing and contexts for experiencing the moving body.
The relationship and fusion of mediums will be investigated in order to create practical and scholarly outputs.
Practical work will be undertaken in order to establish methodologies and practices that re-examine the nature of the live, mediated, and virtual body. This will culminate in a practical sharing that will be used as a means of entering into specific discourse with regards to phenomenological ideas about bodily experience and how norms of audience viewing can be challenged.
Research questions:
To what extent does the presence of a live and mediated body change the creative process.
By challenging the participant's normative means of composition, explore how other technological methods / software programmes can engage our embodied sense perceptions?
Through viewing and participating in discussions on current debates how can new developments and processes in other art forms, which deal with notions of embodiment and how the virtual can be articulated in terms of states of being, pilot new spaces for the dancing body?
In what environment and through what mode of presentation does the audience engage with the body in a visceral and corporeal sense, rather than relying on normative modes of presentation, which situate the viewer back into a proscenium arch context?
Aims and Objectives:
Aims:
1. To investigate process and creative impetus, paying particular attention to the treatment of the body in relation to presence, resonance, and viscerality.
2. Using software tools, such as Isadora software, practically examine and reflect on the possibilities for creating different modes of presentation in order to create an environment whereby methods and strategies can be established. Isadora is a graphic programming environment that provides interactive control over digital media, with special emphasis on the real-time manipulation of digital video, designed by Mark Coniglio and is available to buy commercially.
3. To critically examine the working methods and outcomes in relation to current advancements in other disciplines.
4. To contribute to current debates as an artist making work, which investigates the virtual and corporeal.
Objectives:
1.Through a period of research and development, draw together contemporaries in the field in order to undertake a series of practical experiments.
2. To demonstrate any findings or methodologies in practice.
3. To investigate the possibilities for interaction, with particular reference to the use of alternative surfaces, such as the transparent screen, which challenge normative modes of presentation and viewing?
4. Through performative and scholarly practice, for example through a performative paper, exhibition, article, or further installation work, findings will be disseminated.
Author's biography:
Kerry Francksen is Senior Lecturer in Dance at De Montfort University. Her research focuses on the live / mediated body and philosophical ideas relating to presence, resonance and viscerality. She holds an MA in dance video installation and has made both live, screen and interactive performance, which has been performed nationally and internationally. She has also published findings on her research.
Potential co-collaborators:
Jo Breslin - Senior Lecturer in dance (DMU)
Bret Battey - Senior Lecturer in Music Technology
Stephanie McMann - Choreography and dancer. Graduated from DMU with a first class honours degree
Creative outputs will be practical and it is envisaged that a performative demonstration will take place in Summer 2008. Support from the IOCT includes use of space and the purchase of the transparent screen. Isadora software is supplied by funding through the Centre for Excellence in Teaching and Learning at DMU. Support will also be provided as part of the RAE in dance at DMU.
For further information about this project, please contact:
Dr Tracy Harwood, Institute of Creative Technologies, De Montfort University, The Gateway, Leicester, LE1 9BH.
Tel: (+44) 0116 207 8028
Email: tharwood [at] dmu.ac.uk