Media Arts
SOUNDING UNDERGROUND
Linking urban soundscapes via commuters' memories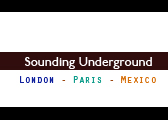 This practice-led research project studied commuter's perceptions towards their daily life soundscape in underground public transport systems, taking the case studies of Paris and México City as counterparts of the London Underground.
The results are the basis for the creation of a score that becomes a user's interface in an Internet-based sonic environment: Sounding Underground.
This environment allows commuters, through interactive options, to experience a process of listening and remembering, provoking the expression of an aural urban collective memory, through the narrative of an underground journey. Interactivity, understood as "Listening and Remembering", has taken two main forms: navigation, including written feedback, on the web, and an off-line networked improvisation for groups of four commuters who used their voices to express memories.
The sound material has been recorded and chosen by commuters, as part of a multi-layered ethnographic process. In the case of México, they have also chosen the images. This approach strives to make commuters contributors in the creation of these environments, and furthermore performers and narrators of their commuting experience. Linking urban soundscapes through commuters' memories from different cultures, sharing the same infrastructure technology, invites us to acknowledge symbolic, social, economic and political issues of mobility in contemporary cities, from the perspective of commuters.
This research was funded by The Leverhulme Trust - Early Career Fellowship 2007 - 2009, and took place in the Institute of Creative Technologies - De Montfort University.
ESPAÑOL
Este proyecto estudió las percepciones de pasajeros hacia los paisajes sonorous cotidianos en transporte público subterráneo (metros), tomando los casos de estudio de Paris y Ciudad de México como contrapartes del London Underground.
Los resultados son la base para la creación de una notación gráfica que se convierte en interface gráfica de usuario en Internet: Sounding Underground. Este espacio virtual permite a los visitantes, a través de opciones interactivas, tener la experiencia de escuchar y recordar, provocando la expresión de una memoria colectiva, a través de la narrativa de un viaje por debajo de la tierra. Interactividad, entendida como "Escuchar y Recordar", ha tomado dos formas: navegación, incluyendo respuestas en la web, y una improvisación en red off-line, para grupos de cuatro participantes, quienes usaron sus voces para expresar memorias.
El material sonoro ha sido grabado y seleccioando por participantes como parte de un proceso etnográfico. Este método trata de que los participantes sean contribuidores en la creación de estos espacios, y aún más performaers y narradores de su experiencia de viaje. Unir paisajes sonoros de infraestructuras urbanas comunes, a través de la experiencia de sus habitantes, nos ofrece una percepción única e íntima de espacios y culturas contemporáneas. El metro, con su infraestructura tecnológica cambia nuestra percepción de espacio y memoria en relación con lugares geográficos, y determina las rutas que catalizan nuestras migraciones reales y simbólicas.
Este estudio fue patrocinado por The Leverhulme Trust - Early Career Fellowship 2007 - 2009, y se desarrolla en el Institute of Creative Technologies - De Montfort University.
FRANÇAIS
Cette recherche explore les histories sonores créées par des usagers du métro, en relation avec leur expérience quotidienne de passagers. Utilisant un environnement sonore interactif en ligne, et prenant l'environnement acoustique des métros de Paris et de Mexico comme contrepartie du métro de Londres, les usagers de ces trois villes exprimeront les souvenirs de leur expériences quotidiennes en utilisant pour cela la voix parlée, des textes lus et d'autre type de sons.
De cette manière, l'écoute devient créative, elle enrichit l'expérience quotidienne des usagers du métro, construisant en même temps la mémoire collective des populations éloignés, à travers un espace virtuel. Ce projet révèle d'une manière dynamique les transformations des paysages sonores urbains, à travers l'apport créatif des participants.
Trois objectifs devraient être atteints:
La mise en place et l'élargissement d'un environnement sonore interactif qui puisse offrir aux usagers participants différents types de collaboration.
La mise en ligne d'un blog présentant de manière dynamique le processus de recherche.
L'écriture d'un article dans une revue universitaire qui décrira les résultats conceptuels, artistiques, méthodologiques et technologiques de la recherche.
Cette étude est parrainée par The Leverhulme Trust - Early Career Fellowship 2007 - 2009. Il est développé dans le Institute of Creative Technologies - De Montfort University.
For further information about this project, please contact:
Dr Ximena Alarcón, IOCT, De Montfort University, The Gateway, Leicester, LE1 9BH
Tel: +44 (0) 116 207 8853
Email: xalarcon [at] dmu.ac.uk