State-of-the-art Technologies
HaRT Animatron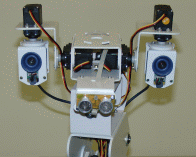 HaRT, the Animatron is a robot that represents a basic neck-head structure.
It has a stereoscopic vision system; currently capable of detecting and tracking motion and recording video when a certain amount of movement has been detected within a specified region of interest.
It is connected to the IOCT's high speed network and through this it can be controlled via the on board computer or the IOCT's super-computer.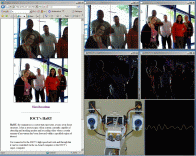 This robot allows us to undertake multidisciplinary research projects involving human-robot interaction and collaborative robot behaviours.
We are currently studying ways to allow the Animatron to create its own rules for perceiving and reacting to situations in its vicinity, including people looking at or moving around it.
Our long term goal is to have the Animatron acting intelligently, inquisitively and creatively, reacting to events happening around it and interacting with the other robots to generate a societal behaviour.
For further information about this project, please contact:
Dr Mario Gongora, Centre for Computational Intelligence, De Montfort University, The Gateway, Leicester, LE1 9BH
Tel: (+44) 0116 2551 551 ext. 8226
Email: mgongora [at] dmu.ac.uk
www.cci.cse.dmu.ac.uk