Contact details
DMU Campus Map: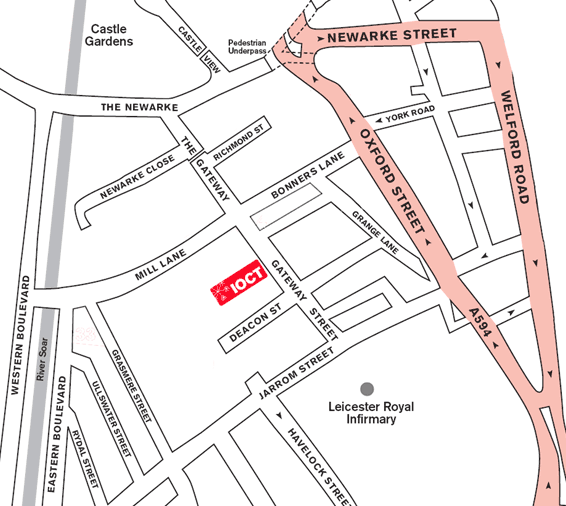 Google Map:

(entrance is on Gateway St.)
Contact
Director:

Professor Ernest Edmonds
Email. eedmonds [at] dmu.ac.uk

Address:

Institute Of Creative Technologies
De Montfort University
1, The Gateway
Leicester LE1 9BH
Travel
Leicester is at heart of the UK and is served by excellent road, rail and air links. It is just off the M1 and close to the main A1, allowing easy access to the north and south. The M69 and M6 are also close by and offer access to Birmingham, Wales and the South West.
Cyclists are well catered for with a well marked network of cycle routes across the city. The new Bike Park in Town Hall Square means you can leave your bike safely and even take a shower or change a tyre!
Bus and train stations are located in the city centre: high speed train links connect Leicester to London and many other large towns and cities, and bus and coach services provide great value and reliable connections in and around Leicester, and to most parts of the UK. Park and ride services are also provided in the city.
Nottingham East Midlands International Airport is less than half an hour away, and Birmingham, Gatwick, Heathrow, Luton and Stansted airports are all within easy reach. The Leicester Skylink bus is a new service connecting the Airport with Leicester in under an hour. This service operates hourly during the day and most hours during the night. For timetable information visit www.arrivabus.co.uk
The City Campus is situated very near the city centre and is about a 15-20 minute walk from both the bus station and the train station.
From Leicester train station
Taxi
A taxi from the train station will costs approximately £4-£5.
Walking
1. via historical New Walk (pedestrian way)
Out of the train station, make your way across the double junction to the far side of Waterloo Way, and turn left. Continue for a few minutes until you reach New Walk, and turn RIGHT towards the City Centre. Follow New Walk all the way down, which includes crossing King Street, until New Walk ends at Welford Place, then follow directions from * below
2. via shopping area
Out of the train station, turn right on London Road (the station is on this main road). Although there is a big confusing intersection with bus lanes and lots of traffic, carry straight on, onto Granby Street (this is the main street into the city centre). Follow Granby Street for about 5 minutes. You will pass lots of shops and see signs directing you to the city centre. Turn left onto Belvoir Street. After about 4 minutes you will come to another busy road called Welford Road.
* Turn left down Welford Road and make your way to the pedestrian crossing. Cross Welford Road and you will find yourself facing a small road, York Road. Follow York Road (you will pass a car park on your right). At the end of York Road (1-2 minute walk) you will come to another busy road, Oxford Street. Turn left down Oxford Street and you will immediately see a pedestrian crossing. Cross the road onto Bonners Lane which shortly becomes Mill Lane.
Take the second left onto Gateway Street and the Institute of Creative Technologies is on the right-hand side.
Parking
Please note there is no visitor car park at De Montfort University's City Campus. Please use public car parks - see this map for possible parking areas.
For further information or to be kept informed about IOCT activities, please contact:
The Director, Institute of Creative Technologies,
De Montfort University, The Gateway, Leicester, LE1 9BH
Tel: (+44) 0116 250 6146
Email: eedmonds [at] dmu.ac.uk
www.ioct.dmu.ac.uk