Virtual Romans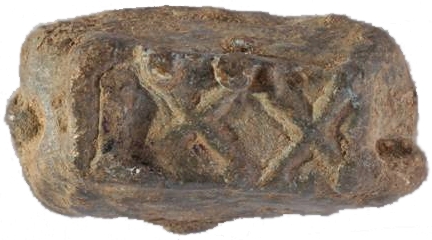 A new website for this project has been created and is now live. This can be found at http://www.romanleicester.dmu.ac.uk/.
The aim of this project is to explore the potential for creative technologies to increase our understanding of life in Roman Leicester (Ratae Corieltauvorum) in the 1st to 4th Centuries A.D. The project has been funded by Leicester City Council Arts and Museums Service and by De Montfort University and University of Leicester.
The project began in 2008, and the first step was to create a virtual model of Roman Leicester within a games environment (Unity) to allow maximum flexibility of use. A drive-through of the first version of this model, created by Dr Douglas Cawthorne and Mr George Watson, may be seen here. There was also substantial coverage of this model in the media, and it formed a key exhibit in the launch of Phoenix Square digital media centre.
Since then, the model has undergone further refinement in close consultation with the University of Leicester Archaeological Service and the Jewry Wall Museum with a view to improving accuracy based on archaeological evidence. The major work has been undertaken by Gerardo Saucedo-Ramirez, supervised by Nicholas Higgett and Professor Andrew Hugill. There is a detailed description of progress, with images, in Gerardo's blog. The revised model is now almost complete (2012) and will be populated with animated characters.
At the same time, there was a parallel project to use artificial intelligence to create realistic 'Virtual Romans' who would live out their virtual lives in the model. These virtual characters will be programmed as fully as possible with all the social, cultural and environmental factors that would have influenced the lives of the people of the period. A character called 'Primus', a tilemaker, was created, and his behaviour was developed to become more lifelike. This represented a considerable challenge to AI, described in part on Dave Irvine's blog. The projectwas overseen by Dr Mario Gongora of the Centre for Computational Intelligence at De Montfort University.
In 2011/12, several new developments were made. The first was a collection of interactive 3D visualisations of Roman artefacts, which may be seen below (click the images to interact). These comprise: a small statue of Anubis, an Upchurch Ware bowl, bronze pin brooch or fibula (brooch) and other artefacts. The visualisations were created by Dave Everitt and Gareth Howell, supervised by Laura Hadland of the Leicester Arts and Museums Service, and Prof Hugill from the IOCT. The project was funded by Leicester City Council.
The second development, which is ongoing, seeks to embed these and other rich information about Roman Leicester in an interactive map which may be accessed usinmg a mobile phone. The visualisations are all very 'light' in terms of file size, which makes them every suitable for delivery across mobile networks. Dr Eric Tatham and Professor Martin Rieser are working on this aspect of the project, with participation from Dave Everitt, Nicholas Higgett, and others.
A third development focuses on the soundscape and includes 3D sound and natural sound synthesis within a virtual environment by Dr Dylan Menzies and music overseen by Prof Hugill.
This is a collaborative project between the Institute Of Creative Technologies at De Montfort University and the University of Leicester and Leicester City Council. Historical and archaeological advice has come from Prof David Mattingly (School of Archaeology and Ancient History, University of Leicester), Mr Richard Buckley (University of Leicester Archaeological Services), and Dr Laura Hadland of Leicester City Council Arts and Museums Service. The project director is Mr Nick Higgett.
Other external advisors include Dr Hugh Denard (Kings Visualisation Lab) and Dr Sofia Pescarin (Virtual Heritage Lab) and we are a signatory of the London Charter for Virtual Heritage Research.
For further information please contact:
Nick Higgett
Email: nph@dmu.ac.uk