Student Profile: John Ashmore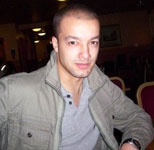 After studying Music and Music Technology at A Level I went on to study BSc Audio And Recording Technology at De Montfort University. I definitely see myself as a technologist rather than an artist or creator. While my main focus has always been based around audio and music recording/production, I also work in the Web design field.
I chose the IOCT Masters as it offers the opportunity to study a wider range of creative technology areas from very different Faculties at the University and this will help me become a more well rounded individual when trying to enter the creative industries.
What I have found most exciting about the Masters is the amazing facilities available at the IOCT and the other faculties associated with the IOCT that we get access to work with.
Coming from a science and engineering background, at first it was a challenge to understand the different philosophies of the Humanities and Art & Design faculties, but the support from the tutors on the module helped me understand the concepts of each project and how to overcome my issues.
I've just completed a multimedia interactive Web site in Adobe Flash for my own creative work as part of the Interactive Media and Applications module. I'm also now looking at ideas for a major project in either 3D sound systems or modern digital recording and production techniques.
I hope to continue working in creative technologies in the future, perhaps set up my own digital media company and studio.
For further information or to be kept informed about the IOCT Masters, please contact:
Dr Sophy Smith
Institute of Creative Technologies
De Montfort University, The Gateway, Leicester, LE1 9BH
Tel: (+44) 0116 255 1551, ext. 6864
Email: SSmith05 [at] dmu.ac.uk