Student Profile: Romain Goadec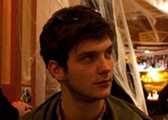 Coming from a science and IT environment, I decided to re-orientate my knowledge due to my aim of working as a website designer. I enrolled in the Masters in Creative Technologies to get more experience and think about a challenging and unique path I could take. In the IOCT I have not only learnt new programming languages, but also how to work on artistic projects with people of various backgrounds and differing views. With my interest in interactivity and games, my final project will be dedicated to produce a storytelling mini-game. In the showcase, where the most interesting projects of each person are displayed, I am presenting a mini-game in Flash, where visual displays are created using processing and also a self-controlled voice handler. I always aim to surprise. For me it is the most effective and enjoyable way to make people take interest in your work.
Keywords: Interactivity, games, storytelling, visual art, programming.
fr.linkedin.com/pub/romain-goadec/44/364/581/en
For further information or to be kept informed about the IOCT Masters, please contact:
Dr Sophy Smith
Institute of Creative Technologies
De Montfort University, The Gateway, Leicester, LE1 9BH
Tel: (+44) 0116 255 1551, ext. 6864
Email: SSmith05 [at] dmu.ac.uk